Burma Bites
Designing a Virtual Restaurant experience and brand
Burma Bites is a new virtual restaurant concept and brand purpose-built for takeout and delivery to address the evolving needs of the Burma Food Group.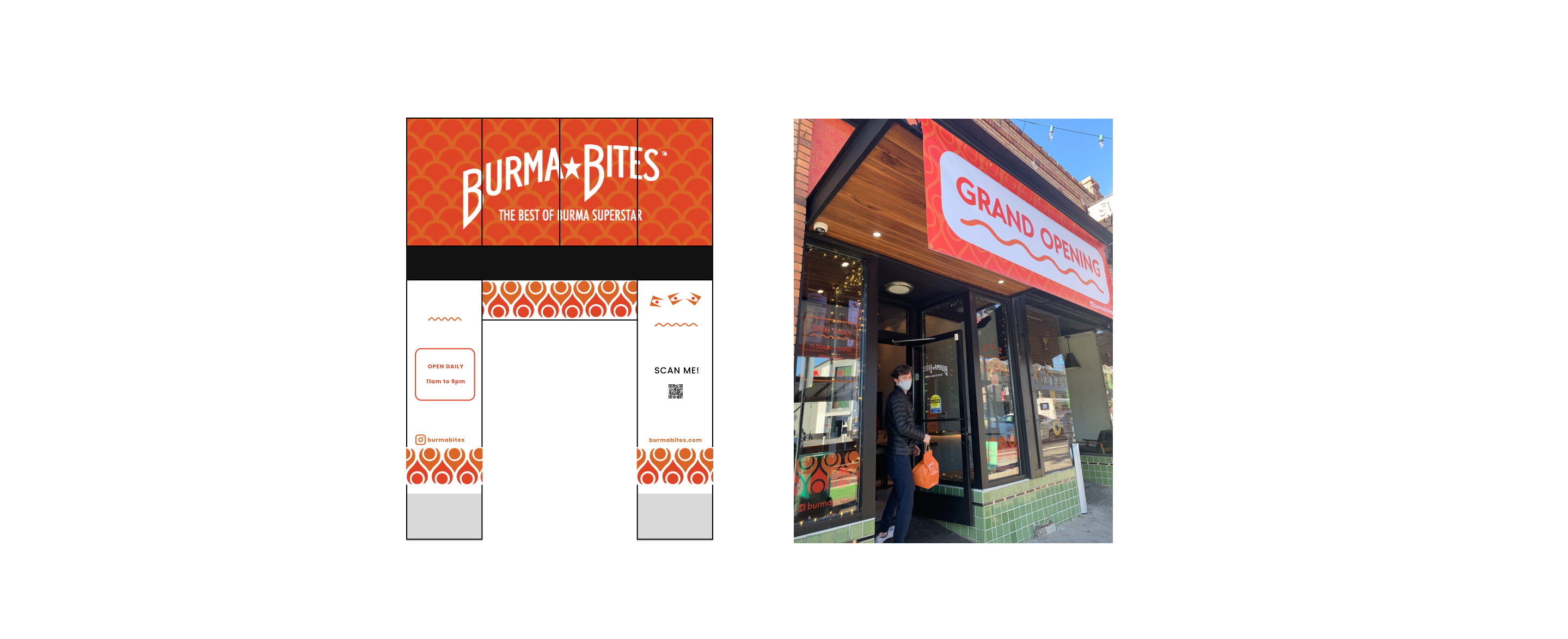 Problem
Burma Food Group (BFG), a restaurant and CPG brand, had an on-demand food delivery model which was not scalable, and was plagued by operational and customer service issues.
The goal was to design a user experience that met the needs of all stakeholders, including consumers, staff, management, delivery drivers, and online marketplace partners.
Solution
I designed and launched a Virtual Restaurant concept, Burma Bites (BB) and partnered with DoorDash in the process. DoorDash became an equity investor in the BB concept, representing its first equity investment with a merchant partner.
Result
Burma Bites resolved the customer experience and operational issues, and allowed BFG to grow on-demand delivery revenue by 300%.
Team
1 UX/UI Designer

1 Operations Consultant

1 Architect

1 Construction Manager
My Role
UX Design

UX Research

UI Design

Data Analyst

Project Manager

Business development
Timeline
Overall: 52+ weeks (including construction)

Discovery & Research: 4+ weeks

Design & development: 6 weeks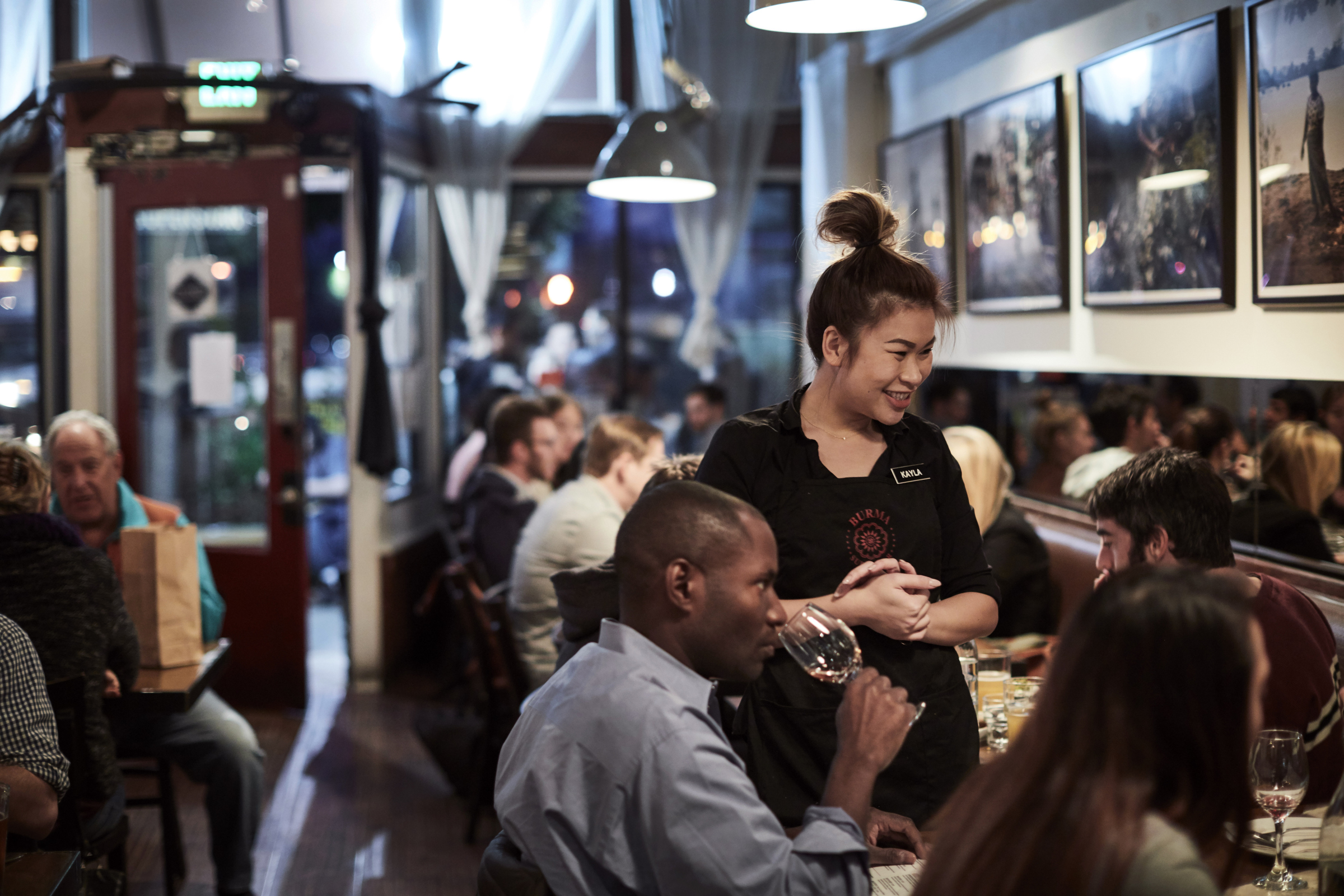 Background
The client, Burma Food Group (BFG), has a portfolio of restaurant brands (Burma Superstar and Burma Love), and a CPG product line.
Founded in 1992, the Burma Food Group is responsible for introducing Burmese cuisine to the West through their first restaurant brand, Burma Superstar (BS). With four locations, Burma Superstar has become the leader in Burmese cuisine.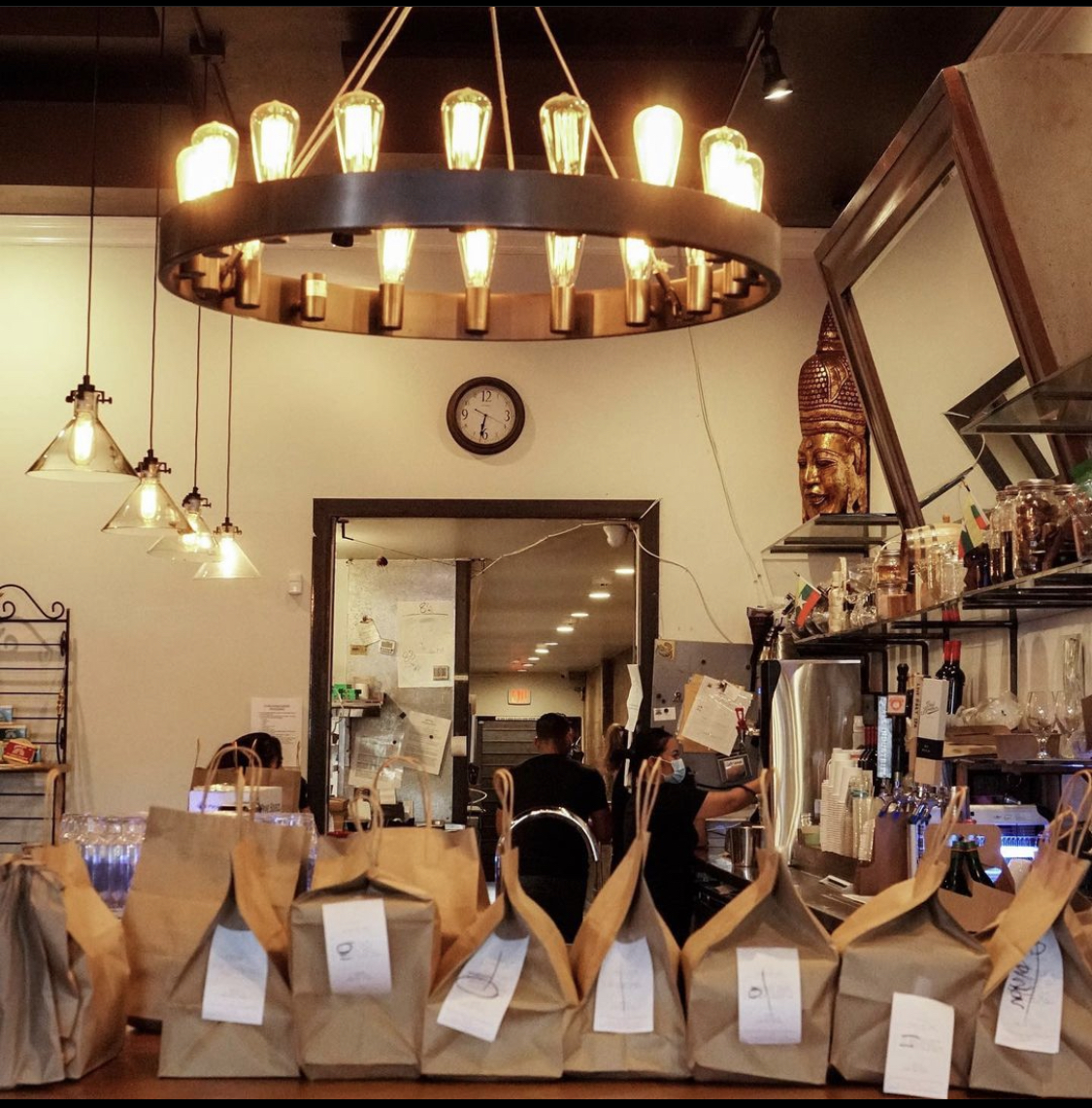 Initial Problem
On-demand delivery revenue grew rapidly for the firm, however, as a result by the end of 2018, the Burma Superstar located in Oakland (BSO) was experiencing operational issues.
Pickup by on-demand marketplace drivers resulted in the disruption of the dine-in customer experience and Front-of-House (FOH) operations.
The Players
In order to better understand the pain points, daily operations, and challenges the restaurant faced, I conducted 8 interviews with stakeholders, including executive management, the restaurant's General Manager, FOH staff (hosts, servers), the BOH staff (kitchen manager, cooks, order expeditors), and the customers.
User Journey Mapping
From the interviews, I built user journey maps for each stakeholder to inform the design and development process and find areas of opportunities. I would reference the findings throughout the entire design process. Below is the UJM for Troy, a FOH staff member at BSO.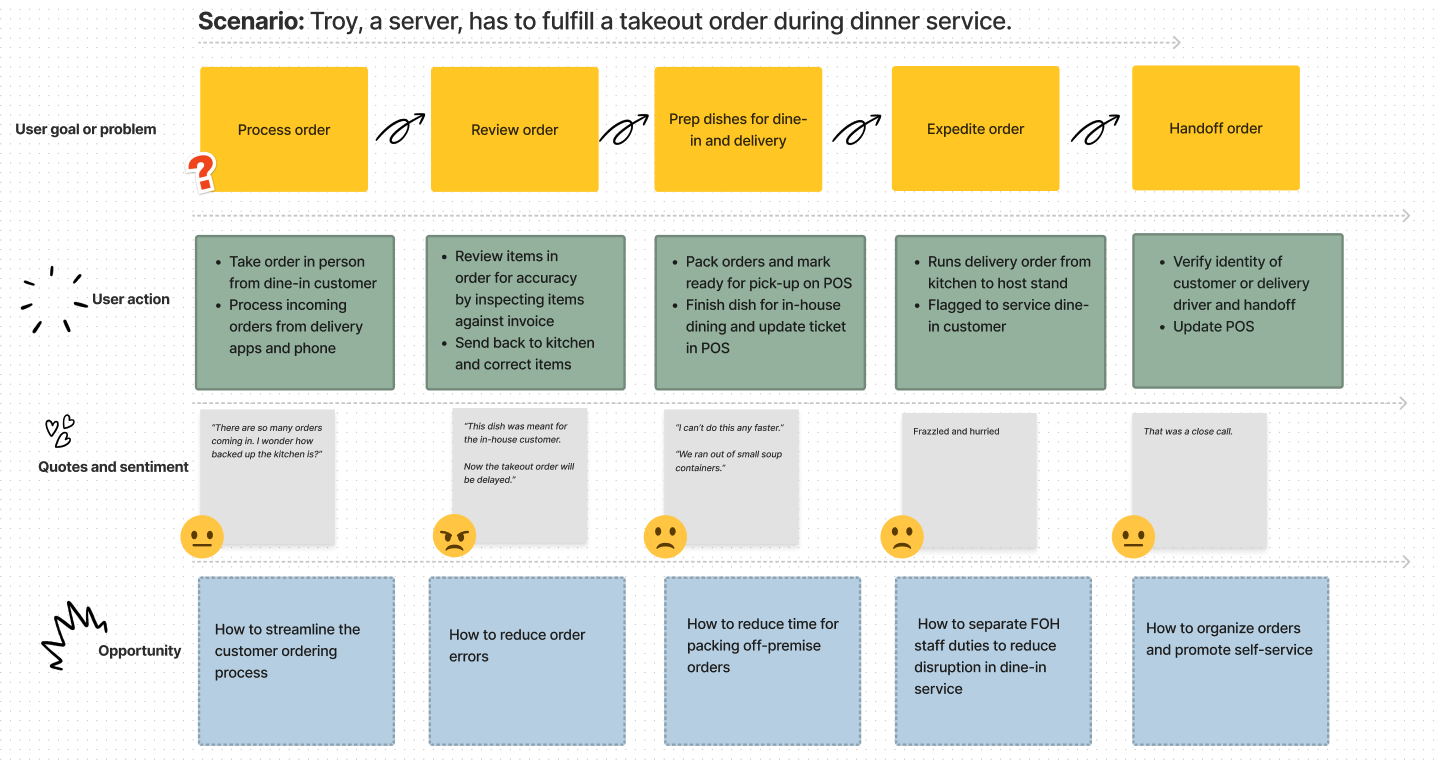 If you torture the data long enough, it will confess.
- Ronald Coase
01
The physical space prohibited scalability.
There was no system for how orders were to be expedited, including a lack of dedicated space for staging and packing takeout orders, resulting in lost sales (acquisition, retention) due to having to display long prep times on the delivery marketplaces, late deliveries, and errors in orders.
02
Role clarity was deficient.
Staff members were stretched thin, operating both as FOH staff as well as BOH operators, acting as a fulfillment center for off-premise orders, resulting in staff confusion, delayed hand-offs, slow dine-in service.
How might we accommodate the opportunity for vastly increased delivery sales at Burma Superstar Oakland while reducing the time spent on fulfilling takeout and delivery orders for the restaurant staff?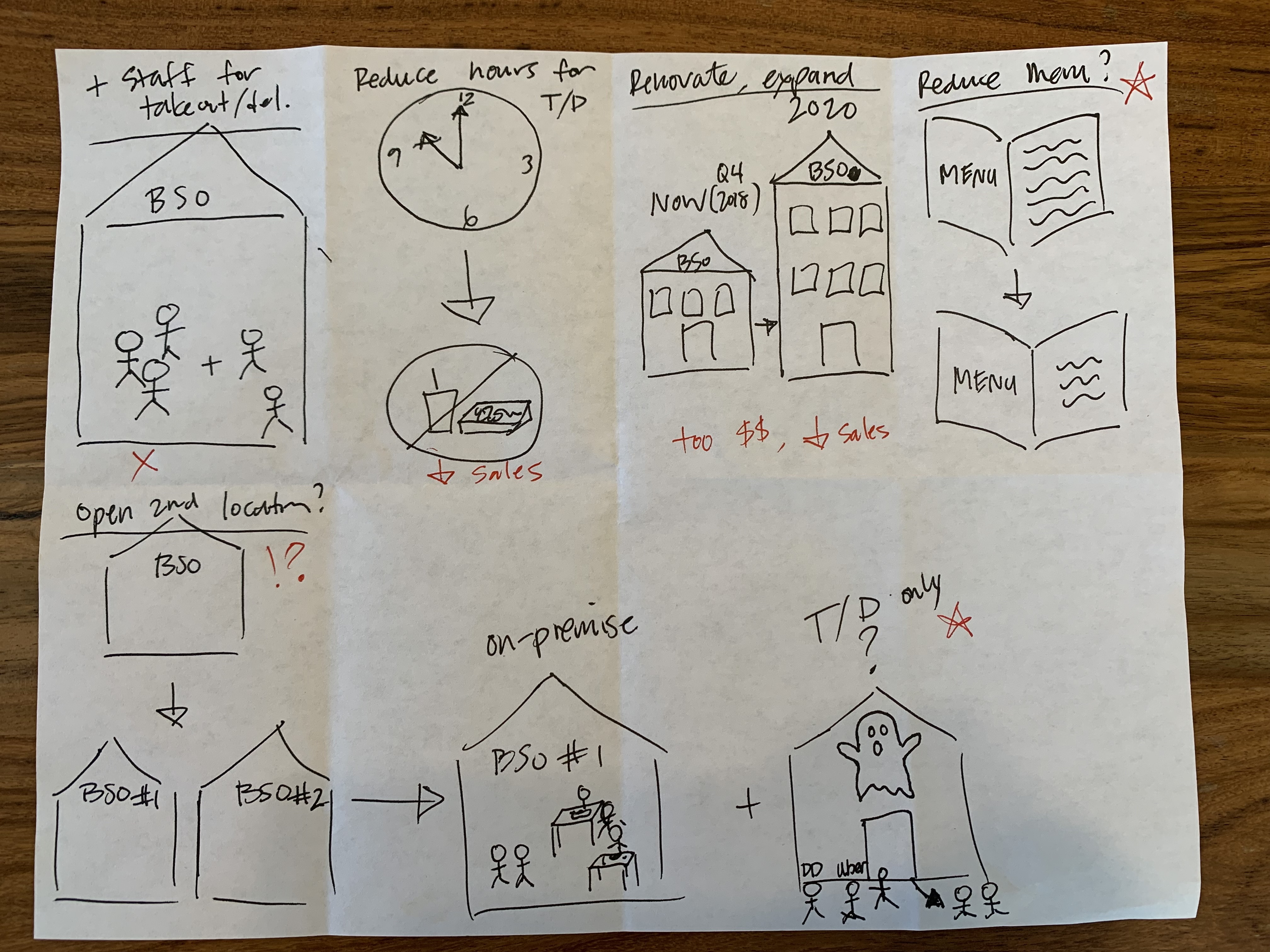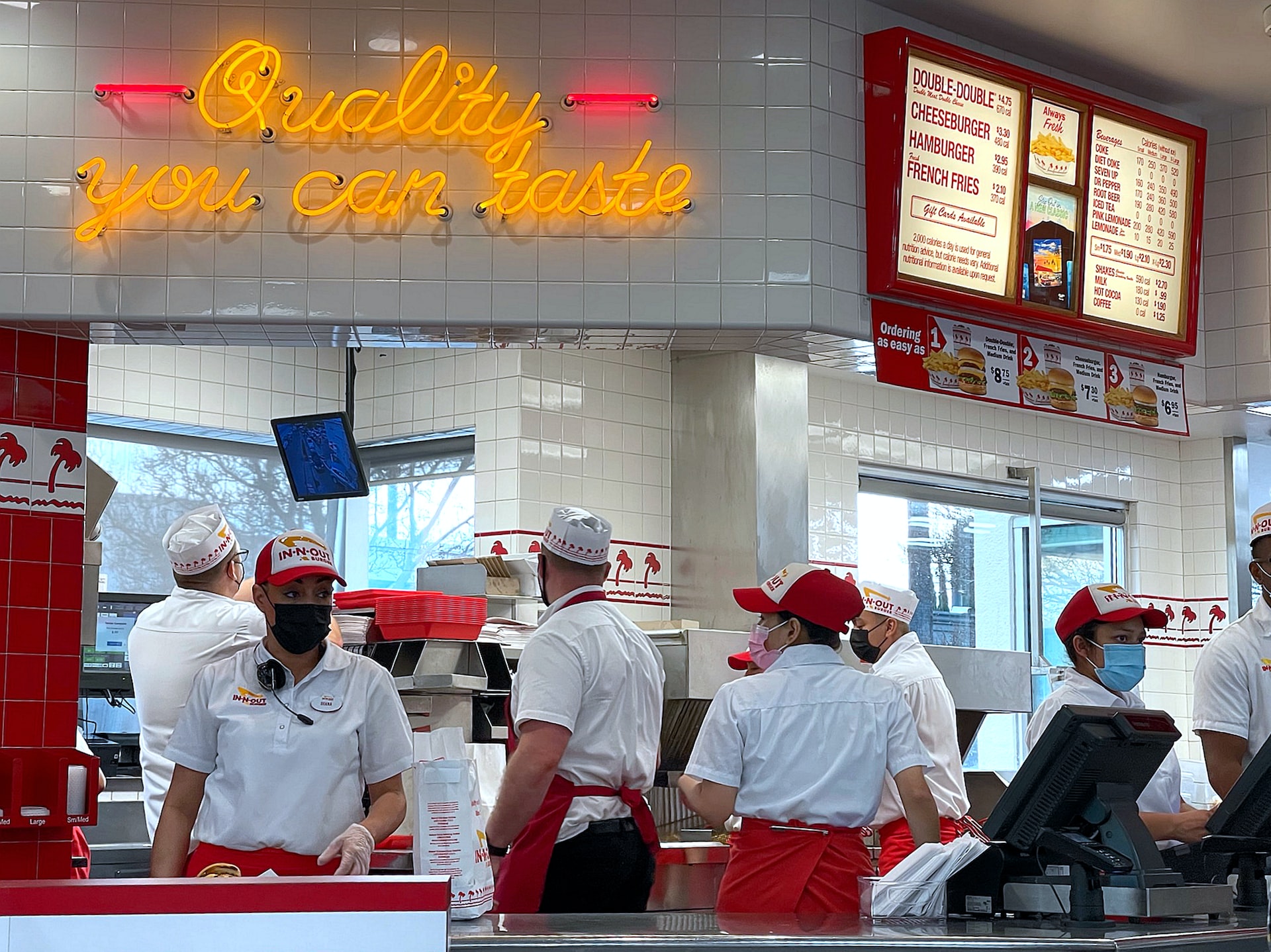 Global Restaurant Trends
To further understand the industry, I conducted secondary research and learned that the global fast food and quick service restaurant market size was valued at USD $257B in 2019 and is expected to grow at a compound annual growth rate (CAGR) of 5.1% from 2020 to 2027 According to a 2018 report by Grand View Research. The market growth is due to the increasing preference for fast food among generations X, Y, and Z. Convenience, good taste, and less time and money spent are factors contributing to the growth in fast food and quick service restaurants.
When UX doesn't consider ALL users, shouldn't it be known as "SOME User Experience" or… SUX?"
— Billy Gregory, Senior Accessibility Engineer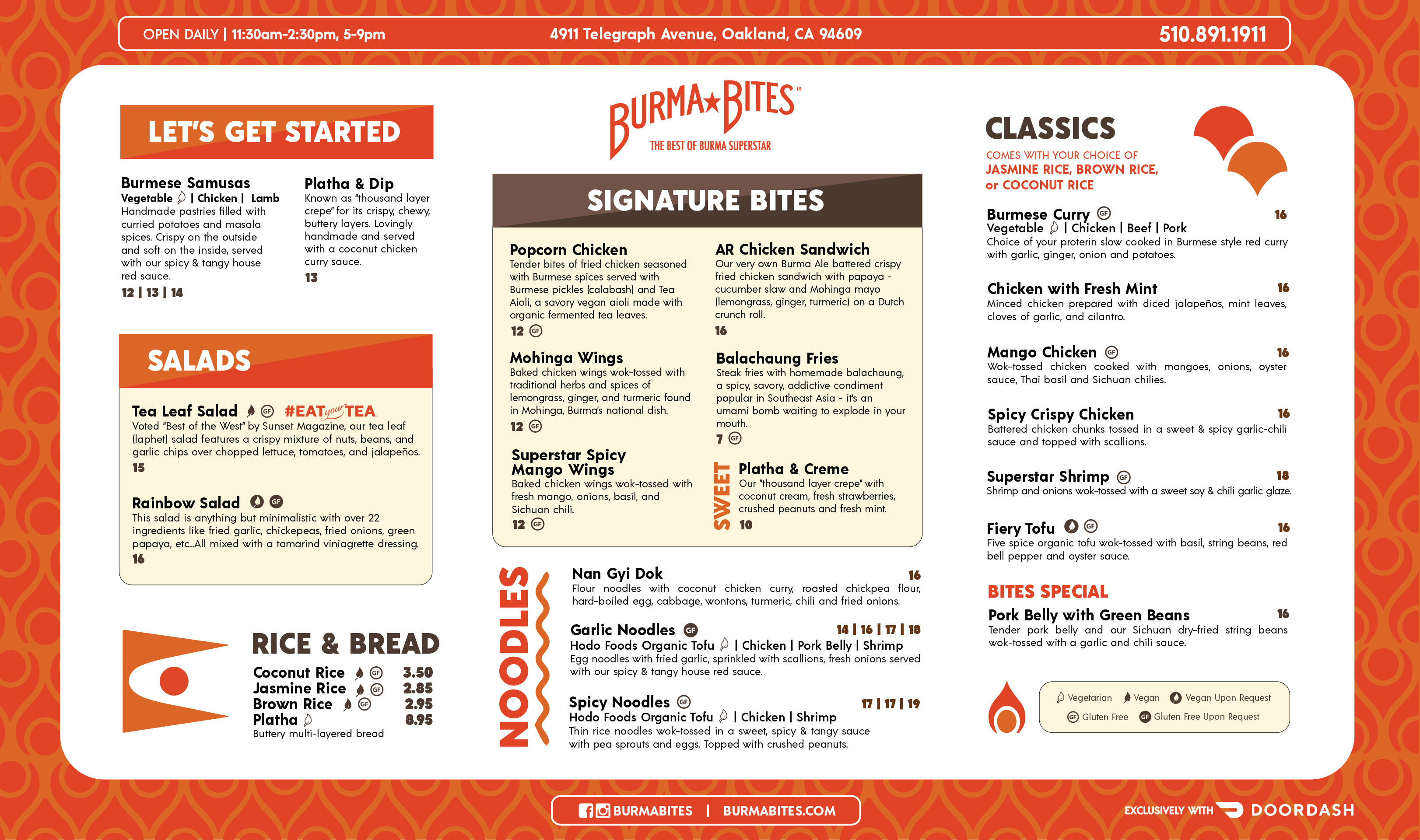 Menu Optimization With Data
AOS (Avg. Order Size): The utilization of data to optimize the BB menu for the delivery use occasion resulted in more relevant selections for consumers.
Margin: The design of the menu also improved profitability of the orders by adding modification options which increased the attachment rates for high margin ancillary items (e.g. add protein of choice).
How might we differentiate Burma Bites from the parent brand to spark recognition and reduce confusion?
The Results
Operations and Scalability
By utilizing a separate, dedicated, space in close proximity to the physical dine-in restaurant (BSO). BB VR would leverage existing operations and synergies by sharing inventory, staff, and technology with the dine-in facility nearby.
The hybrid model: separate cook line with shared resource addressed the lobby congestion, FOH and BOH operations issues, and provided the capacity to scale on-demand delivery operations to 3x current revenue.
Customer Experience
The UX/UI design of the website delivered enhanced customer experience by giving customers visibility and control over their orders. Online ordering allowed for more efficient ticket management reducing average prep times displayed on the consumer-facing marketplace apps from 56 minutes to 43 minutes.
In addition, the menu of the VR was 60% in common with the dine-in restaurants, allowing consumers to retain access to the parent firm's signature menu items while allowing 40% of the menu to be new items and packaging.
Results
Saw a steep-change in demand (sales increased 35%) because allowed BB to compete more effectively on the important consumer attribute of time between delivery and order.
Reduced errors: the improvements in order fulfillment and packaging improved order quality by 22%.
Customer refunds were reduced by 21% and customer retention improved 55%.
Pics or it didn't happen...